After several years of no one being able to pronounce the name of Ondes, our expressive synthesizer app (d'ailleurs, les Français, bien sur), we've decided to change the name!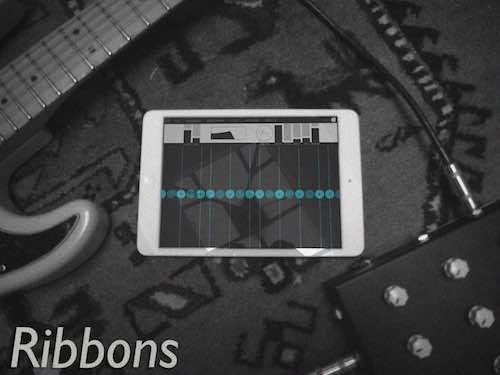 The app formerly known as "Ondes" is now "Ribbons."  
It's still the same multi-touch, wavetable modulating, pitch-bending, swarm oscillating, expressive synth that you've always known and loved. It's just got a new name.  
Watch the original Ondes demo video on YouTube.
Ribbons is a free update to owners of Ondes.  
Features :
•••• Expressive Playing Surface ••••
Slide freely between notes, Ribbons doesn't limit you to the keys on a keyboard.
Adjustable note snapping for ultimate flexibility in playing style and ease of use. 
Use the hold function to sustain notes while you take an epic solo on top. 
Vertical movement can be mapped to volume and synthesizer parameters, adding dynamic possibilities to your music.  
More polyphony than you have fingers!
Adjustable keyboard range and size.
Guidelines help you play in key.  Choose from common scale types in any key or create your own.  
Alternate tuning systems let you explore the world of microtonal sound!
 
•••• Unique Synthesis Engine ••••
Morphing wavetable oscillator with five wavetable sets.
Swarm oscillators!  Two extra oscillators can be detuned and lag behind to create new textures.  
Wavetable modulation sources include Y-Axis, sine wave, noise, circle, and ADSR envelope. 
Resonant low pass filter.  
Filter modulation sources include ADSR envelope, sine wave, and Y-axis. 
Amplifier section with master volume, Y-axis control, and ADSR envelope.
Y-axis can be mapped to control the rate and depth of wavetable and filter LFOs.  
 
•••• Effects ••••
Large selection of reverb types with adjustable amount.
Delay effect adjustable level, feedback, time and filter.
 
•••• MIDI ••••
Use Ribbons as a MIDI controller to control your favorite software and hardware synths.  Map each touch to a unique MIDI Port/ Channel for polyphonic pitch bend.  Because of Ribbons' unique pitch bend capabilities, it isn't like other controllers, so make sure to read the instructions to learn about how to get the best results.
 
•••• Inter-App Audio ••••
Record directly to Garageband and other audio apps on your iPad using Inter-App Audio or Audiobus. 
Built-in Inter-App Audio transport allows you to control a host app's play, record, and rewind buttons.
Supports Audiobus State Saving.

•••• Beautiful Design ••••
Visualization of synthesis parameters makes for fun and intuitive editing of parameters.
Clutter free screen lets you focus on making music. 

••••
Built-in Manual makes it easy to dig in and learn about Ribbons' features.  
​
* Chordion: App Store Editor's Choice in 23 Countries, App Store Best of 2013, Innovative Music Apps, China, Japan, and South Korea.