One of the features of Patterning that we are really excited about is its constantly-expanding assortment of artist and factory kits. These are available as free in-app downloads, and we have already released six so far! 
You may have seen our interview with Rodrigo Constanzo that accompanied his Rollz-5 kit. Since Patterning went live, the other cloud kits that we have released include Anytime by Uumans, Honey Drum by Michael Beharie, RubberBandTrashCan by SEAGULLINVASION, and a kit that Olympia audio engineer Ben Hargett assembled from his sessions with the band Ghost Feet. In addition to these artist kits, we have also made a new factory kit available: 2020.  Today we are making yet another kit available, Funkstep by DJ Puzzle.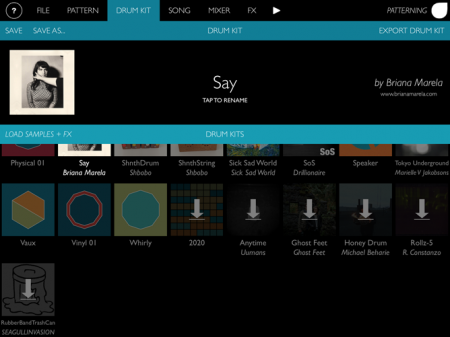 Patterning users can download any of these kits by simply touching one of the cloud kit icons that appear at the bottom of the DRUM KIT bank. New kits populate this field automatically as they become available, but we encourage users to enable push notifications to find out when new kits have been added.
Also worth mentioning is our latest video on Patterning's Advanced Loop Settings, a follow-up to our tutorial on Standard Loop Mode. The video demonstrates Patterning's different playback modes, features like auto-rotate and swing, and how to apply these settings to either a single loop or all loops in a pattern. Check it out below!